What's your proposition? brush
 

tool
As part of a larger campaign for Plymouth College of Art organised and designed by TEMPLO, I worked with Patrick Altair McDonald on a typographic brush and canvas tool.
Part of Plymouth College of Art's mandate for their current 5-to-10 year strategy is to encourage and facilitate "social justice and creative learning." TEMPLO combined this with the final point of their strategy, which asks "What's your proposition?"
The aim of the campaign is to take the university's behind-the-scenes strategy and make it public and accessible, says Pali Palavathanan, creative director at Templo, while giving as many students as possible a voice.
The campaign features slogans, drawings, and work from former graduates, current students, and anyone else who wants to use the drawing tool.

My work on this project was exclusively focused on the typographic "brush" itself. I regularly build custom tools for designers, helping them to speed up piece of their workflow or visualise their work in new ways. Rather than making something that solves one specific design problem, however, this project was about establishing the constraints other designers, artists, students, and applicants would work within.
The outcomes needed to work within the existing campaign visual identity and first round of promotional material TEMPLO had designed, but otherwise allow for a wide range of outcomes and submissions.
The visual language of the campaign was already built on some twisted and stretched Franklin Gothic. Usually you'd avoid stretching and distorting type like this—certainly, I'm more used to encouraging graphic designers not to do this—but here, the type is primarily used as a graphic element. The submissions are paired and captioned with non-distorted versions of Franklin Gothic on the site.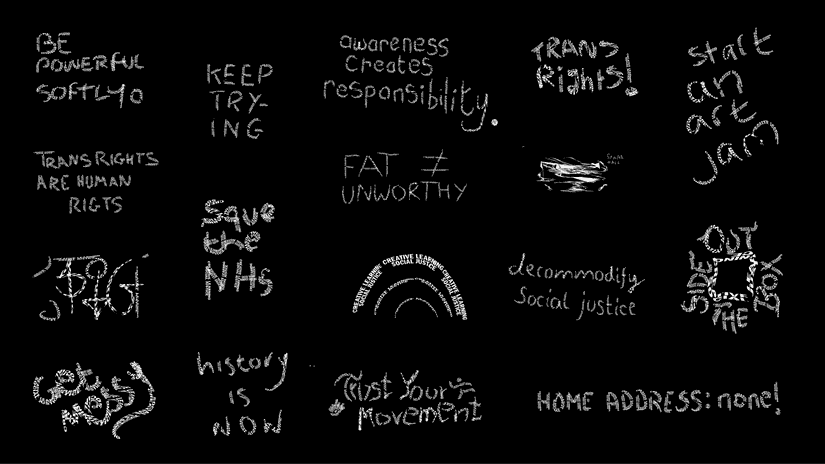 ---
Implementation
My work on this project resulted in a JavaScript library, working examples, and documentation, used by Patrick and TEMPLO. Like nearly any web-based software project, this project was possible because we were able to build with excellent existing open source work, namely Paper.js.
Try it yourself: whatsyourproposition.com
Featured
The campaign as a whole was featured in a variety of places, which include imagery made with the tool I worked on: